Ben Hunt started the 2017 season signing a multi-million-dollar deal for the St George Illawarra Dragons from 2018 onwards. He pledged to his Brisbane Broncos coach Wayne Bennett he would give his all for the club and wanted to go out with a premiership.
Well, the year didn't quite start as he would have liked, playing sloppy rugby league and very much out of form. As the Broncos were struggling to close out games early on, Hunt admitted to not being confident enough to take the clutch moments and kick match winning field goals.
Lucky enough for Hunt and the Broncos, skilful winger Jordan Kahu was happy to take it on and bailed them out a few times. Fans were calling for Hunt to pack up and go to the Dragons then and there, it seemed his head was already at Wollongong.
Fast forward a few rounds and Wayne Bennet drops him from the team altogether to play Queensland Cup with the Ipswich Jets. Hunt was solid in his only game for the Jets and before you know it he's back for the Broncos coming off the bench and eventually claiming his beloved No. 7 jumper back.
Leading up to the origin period the Broncos were desperate for wins and although Hunts form was still patchy the Broncos went on a good run and his form was slowly starting to change.
Then the phone rings, it's Kevin Walters the coach of the Queensland Maroons. Hunt had been selected for the Maroons in the decider off the bench. It was clear fans and ex-players were unhappy with Hunt's selection, Daly Cherry-Evans was playing out of his skin for Manly and many believed he deserved Hunt's spot.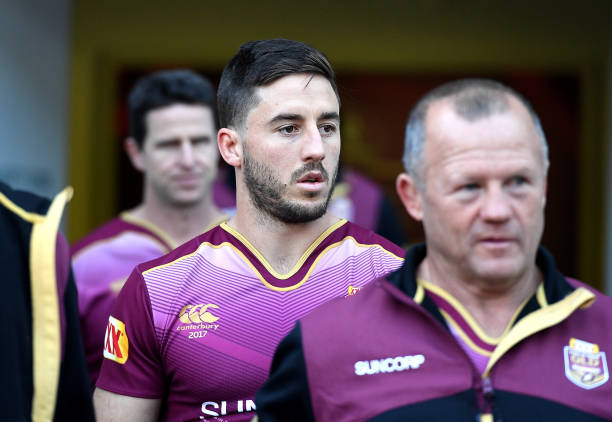 Hunt didn't get many minutes in the decider but in what time he did get, he did what he had to do. He is now a State of Origin series winner for the Queensland Maroons, to go along with that he's also represented Australia in the 2014 Four Nations.
So back to the Broncos he goes full of confidence after his State of Origin debut. His form still improving each week. Then the next hurdle came along with his close mate and Broncos hooker Andrew McCullough suffering a season ending injury.
Wayne Bennett makes the big call to thrust Hunt into the hooking role. Let's take a moment to consider how much work a hooker must do in a very physical role but Hunt greeted the opportunity with open arms.
Since taking over at hooker, he's been in scintillating form with his elusive running game and short balls to rampaging forwards being the key to the Broncos success of late.
Now heading into the NRL finals, Hunt will be a massive factor for the Broncos if they want to go into deep into September or even October.
What a year it has been for the elusive player, plenty of ups and downs. Who knows, maybe a Premiership or even another Australian jumper could be just around the corner.
Hopefully, he can live up to the hype for the St George Illawarra Dragons fans in 2018.
The 2023 NRL Season is just around the corner and the Zero Tackle Season Guide is back! Get everything you need, from team lists, fixtures, statistics and a profile on every single player in the competition in our 2023 NRL Season Guide. Available now!